A renowned hydraulic manifold block manufacturing know-how
VMF Hydraulics, a European manufacturer of robust and reliable hydraulic manifold blocks for more than 35 years.
Precision and rigor as a promise
Our team of experts will work on your projects with the utmost rigor and professionalism.
Using VMF Hydraulics for peace of mind with :
A bespoke project defined by specific characteristics
A thorough design brief rigorously followed
A computer-aided design for increased precision
Increased reliability of the manufacturing process thanks to CAD/CAM and CNC machines
A thorough QA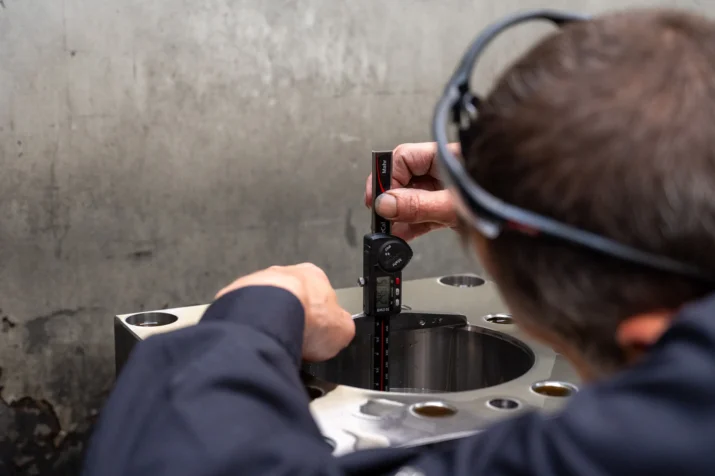 A proven approach to our industrial processes
Design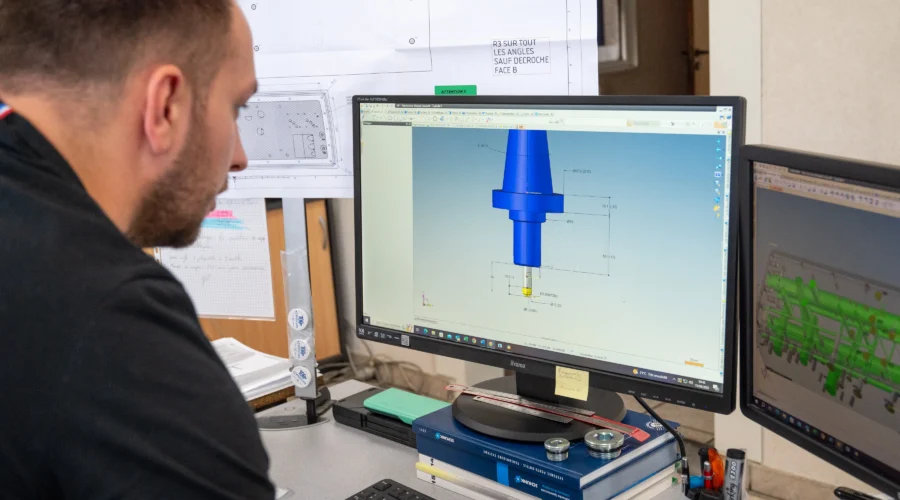 Our design department designs manifold blocks based on technical characteristics defined by the hydraulic schematic.
After having reviewed and approved the design brief, we look into all the challenges in our feasibility study. This includes making sure we follow international standards and look into mechanical constraints.
At VMF Hydraulics, we advise our clients on what materials and finishes should be used depending on the intended use to ensure we deliver the best possible product.
The expertise and CAD/CAM digital tools combination allows for an increased reliability and optimisation of our manifold blocks.
Manufacturing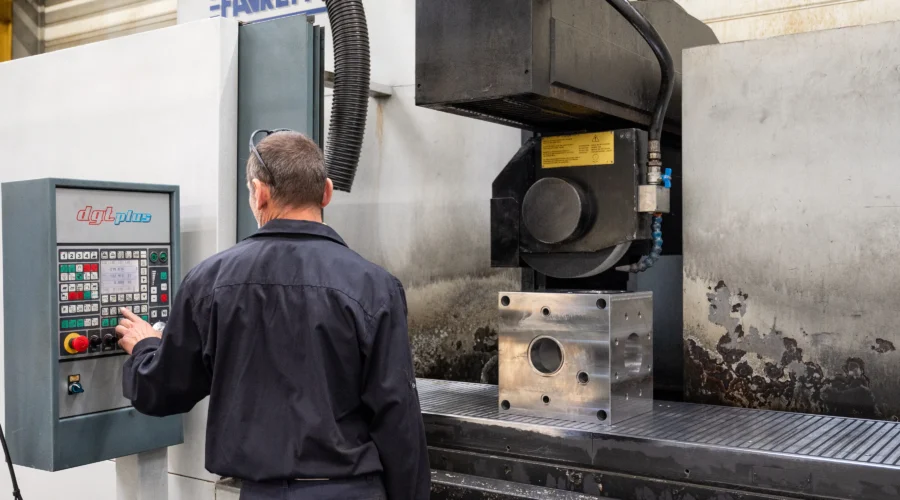 Rigor, flexibility and reactivity are the core of our manufacturing processes. In our 4,000sqm workshop, our technicians overlook all the manufacturing steps.
Our manufacturing plant comprises standard machines and state of the art CNC machines. It allows us to manufacture a wide range of hydraulic manifold blocks. We have 10,000+ tools with 500 different shapes and more than 5,000 drill bits to be able to create bespoke cavities.
We can meet your requests, should they be for small, medium or large batches of manifold blocks whether they are standard, bespoke up to 10 tons and 2 meter long.
For a number of years, VMF Hydraulics has been choosing automated manufacturing processes and continuous production methods. To ensure a timely delivery, our workshop is composed of automated machines that help manufacturing large batches.
Cleaning - Surface treatment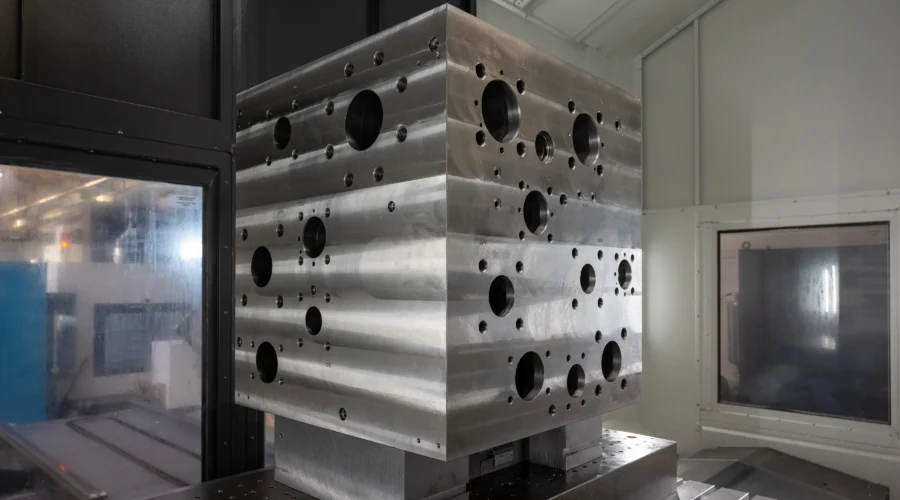 VMF Hydraulics owns two grinding machines for a controlled and optimized depollution of the manifolds. Surface treatment is a key step in the manufacturing process, this is why we look at this step very closely. The grinders eliminate all surface defects and significantly improve the sealing of the manifold.
We offer our clients a wide range of surface treatments to suit all environments : Phosphating, Chemical nickel, Galvanising, Hard and color anodisation.
Quality Assurance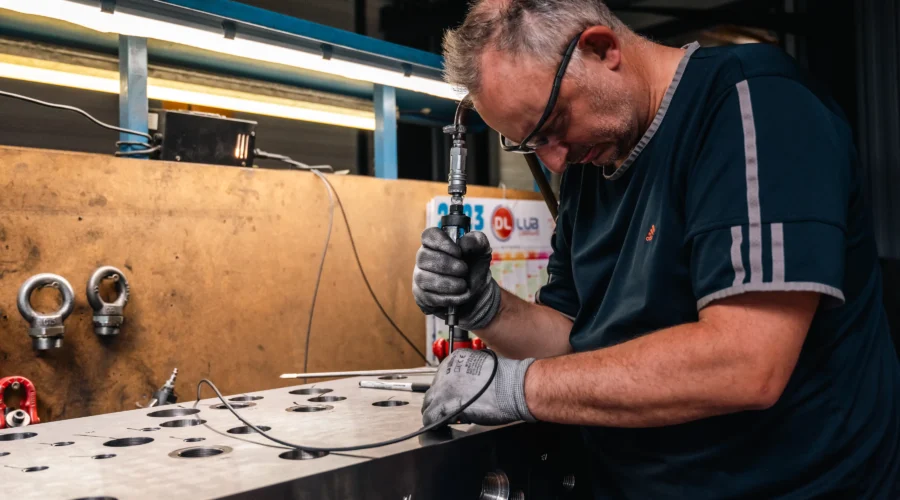 Quality and reliability are key values to our manufacturing process. We endeavor to 100% satisfy our clients. This is why VMF Hydraulics has been ISO 9001 certified for over 20 years and has a dedicated QA team.
All our manifold characteristics are thoroughly checked to ensure compliance with the design brief and technical documents. Ultrasonic testing, dimensional control, threading control, surface control, endoscopy : we look into everything.
Our machining centers and experts looking into quality and reliability
Multi-Axis manufacturing
At VMF Hydraulics, we have more than 40 qualified technicians working in a fully equipped workshop to be able to meet our clients expectations :
15 CNC machines amongst which several are 4 axis palletised and traditional.
10,000+ tools with 500 different shapes and 5,000+ drills bits ranging from 0.8mm to 80mm diameter.
Manufacturing capacity ranging from a few grams to more than 10 tons and up to 2 meters length.
24/7 Manufacturing
In order to increase our manufacturing capacity and manufacture large series of both standard and bespoke blocks, we chose to invest in machines that allow for continuous production.
All our 24/7 working machines load pallets to achieve an uninterrupted production. Night or day, our production capacity's flexibility is increased by removing all constraints on the manifold.
Quality Assurance
In our workshops, all is under control! The hydraulic blocks' conformity with the design brief and their sealing properties are thoroughly checked.
Our quality team consistently look into numerous technical points after the machining :
Visual checks of all cavities using fiber optic to ensure there are no burrs.
Diameter check and drilling depths based on the design brief.
Threading check by samples. In case of a defect, all threadings will be double-checked.
Control of the connection between all holes to ensure the block will work as intended.
Surface control to ensure a perfect sealing on our manifolds.
23 000blocs hydrauliques livrés par an
11CNC machines
20+ yearcertified ISO 9001
6checking steps
1,500 projects per year in average
They trust us